In May of 2007 I was fortunate enough to have Noah Fuller create a watch for me. He was a Canadian living in Hong Kong, and to make extra money he restored old Seiko watches that he found cheap at local markets. We discussed several options for the watch, and finally settled on an aftermarket OEM style dial and "dot" hands. Noah was extremely patient with me, and sent many photos as the watch was designed. Before he mailed the watch, he sent me these photos.
The Seiko 6309-7040 (6309 is the movement reference number, 7040 is the case design) was made during the 1980's as a sport diving watch. It uses a rotor design to wind the watch and is not hand winding. This watch was made in 1984 and still runs great today.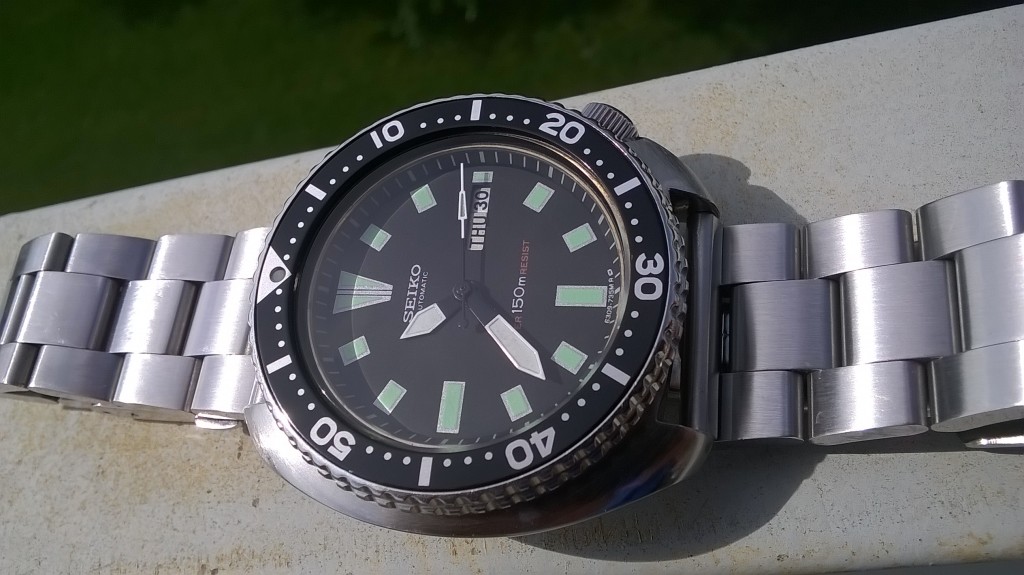 When the watch arrived, I was so excited that I photographed the whole opening process. Noah delivered all his watches with a beautiful case and two different straps.
In 2013 I wanted to change the watch as I wasn't wearing it often. I had previously opened the watch to repaint the luminescence on dial markers and hands, but the watch still didn't look "right" It would glow strongly at night, but the hands were still not correct for the watch itself. I ordered an OEM style North America 6309-7290 dial and 6105 hands from ebay. The dial fit, but the hands were a problem. Finally, I gave up and used a set of pilot hands from another project. These actually fit perfectly and match the "cockpit" style of the sweep hand. Here are pictures of the watch today
Sadly, Noah passed away a few years after he created this watch for me. He fell ill while living in Hong Kong, and returned to Canada for treatment. At the time, all of his friends in the watch community though it was a moderate illness, but it was terminal cancer. One of our last emails was discussing watches and loss of loved ones. Our cat had just died and I told Noah that I wasn't thinking too much about watches that day. He understood and responded "Never a problem, all will pass with the days and things will always get better …"
Godspeed my friend, you will be missed.