This is the watch that started it all. Years ago, I was the guy with only 2-3 watches and I kept them in a drawer. Now I have over 50 and I keep them in watch cases. If I were to blame one watch for this madness, it would be this humble Seiko automatic.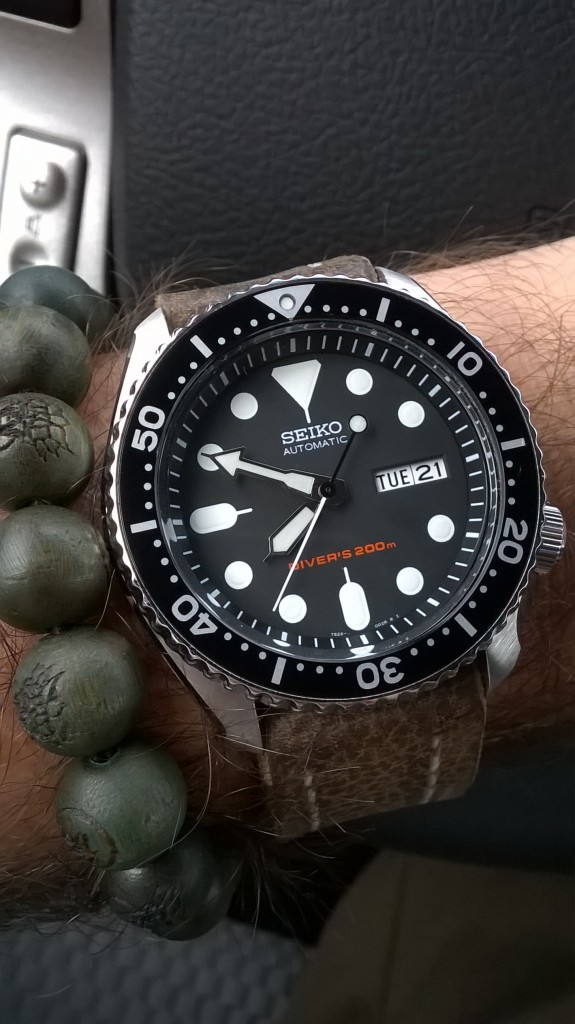 Originally, I was shopping for a dive watch that used tritium tubes on the dial and hands. This led me to almost purchase a Stocker & Yale left over from the Gulf War. I hesitated too long, and the last of the steel SandY's were sold before I could make up my mind. Still wanting a tritium watch, I found the Luminox brand of watches. While these had the right parts, they were highly over-rated and grossly overpriced. While researching the Luminox claim of "Navy SEALs official watch", I stumbled up the Seiko Automatic Diver's watches.
While others make claims, Seiko has been content to produce the best, most rugged dive watch for the money. The US Navy does not formally issue any watch to SEAL teams, but instead lets them pick their own. The two most selected – Seiko 200m automatics, or Casio G-Shocks. The Seiko watches are certified down to 600 feet and can be purchased for much less than comparable Swiss watches. Equipped with a self-winding 7S26 movement, these will run accurately for many years.
The watch arrived with the stock Z-22 rubber strap which I chose over the more expensive steel bracelet. The z-22 is an excellent 22mm natural rubber strap that fits comfortably on the wrist. While I still use the Z-22, I felt the classic lines of this watch deserved a handmade leather strap. After many attempts (and failures) I finally crafted a strap worthy of this iconic watch. Using 3 thick layers of buffalo grained leather, beeswax thread and a polished buckle, the new strap "finishes" the watch.